18 Great Vector Superhero Resources To Grab Now
Designing a card for Father's Day, a Best Doctor advertisement, a super company mascot, or a comic book – Superheroes help us visualize power, ability, helping, empathy, and more.
We've researched the web for the best eye-catchy vector superhero characters available for download. Let's check them out:
Fat superhero vector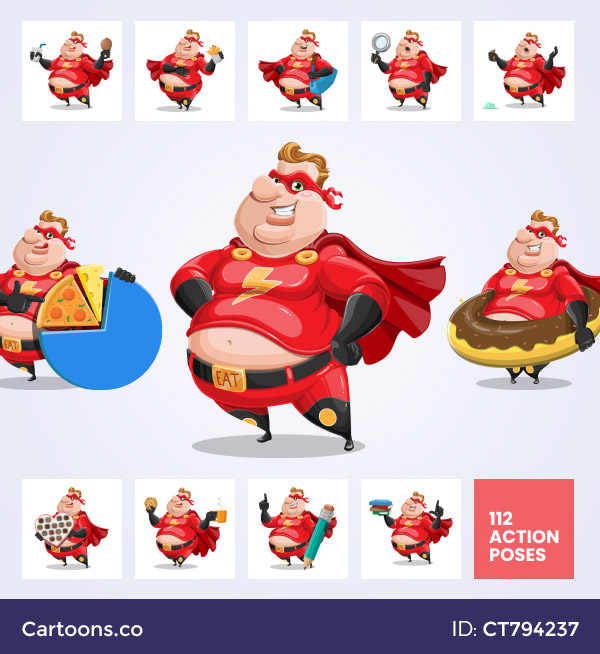 We will start with this charming fat superhero in vector format. This vector set includes over 100 different poses of the fat hero with a wide range of activities, such as holding a gift, holding money, with a loudspeaker, with statistics, with a whiteboard, with a donut, with a target, and many more. The usage possibilities are endless.
Comic book super hero vector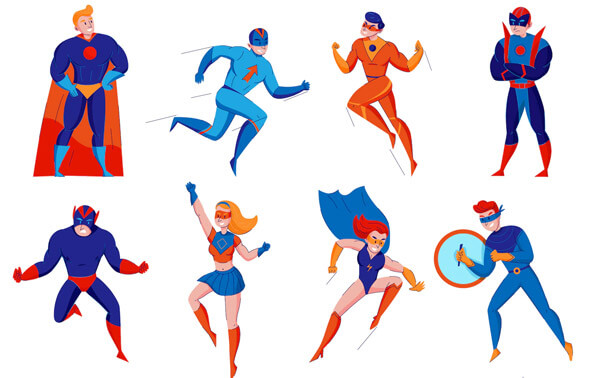 Set of Comic book hero vector characters, that are completely editable. These free vector male and female heroes are great and fully editable.
Superhero cartoon vector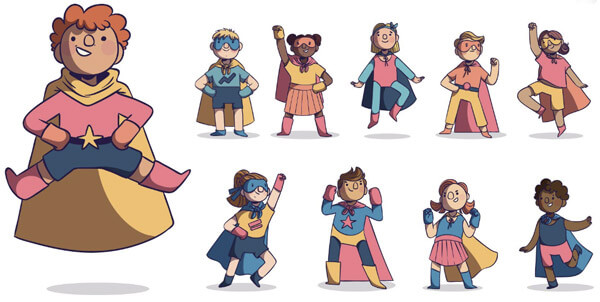 A great collection of 10 cute chubby super hero vector characters, that will surely provide your audience with positive vibes. These smiling and optimistic little heroes are made in a cartoony style using only vector shapes.
Super hero vector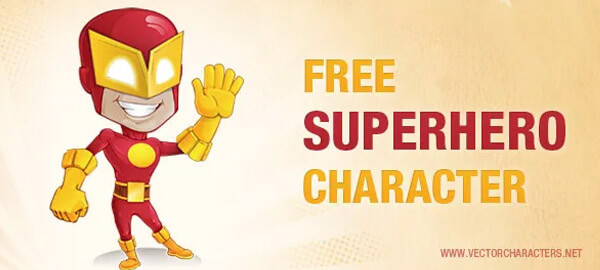 Take a look at this welcoming and waving with a hand vector superhero. He is charming and has a big big smile, combined with his traditional red and yellow costume, he is perfect to visualize a superhero.
Kid superhero vector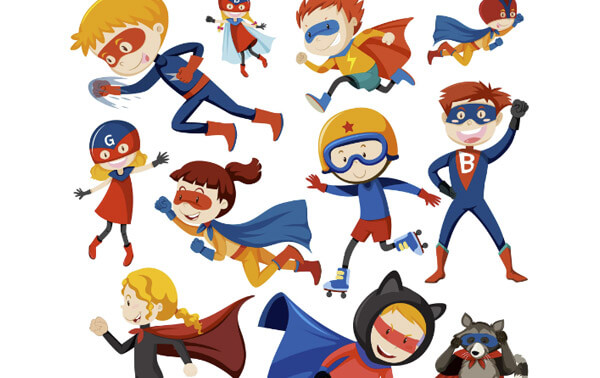 This collection of vector child superheroes is absolutely free to download. This set perfectly illustrates the youth's brave spirit, and it is a great choice to inspire young people. And on top of that, this kid superhero vector bundle is available for free download.
Couple superhero poses vector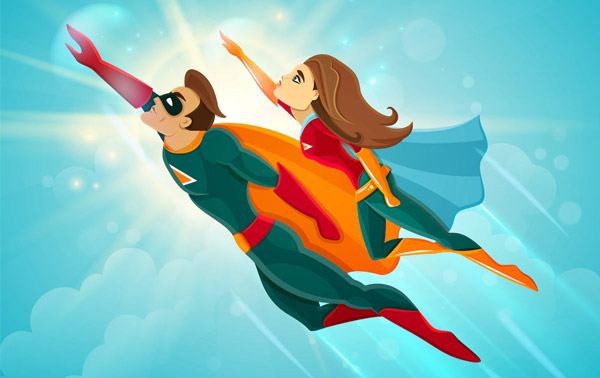 We are happy to see this free superhero vector art, that includes male and female superheroes flying vectors working as a team. This vector graphic is perfect to visualize equality, teamwork, diversity, etc. Such a powerful resource!
Superhero silhouette vector free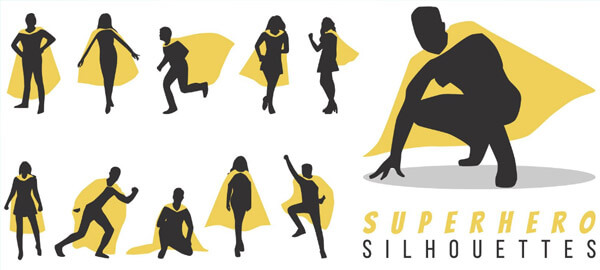 A free superhero silhouette vector set with 11 different silhouettes of heroes with colorful hero capes. It is a great option to use a simple graphic without focusing on persons rather than the strong idea and your message.
Vector hero girls and super hero boys vector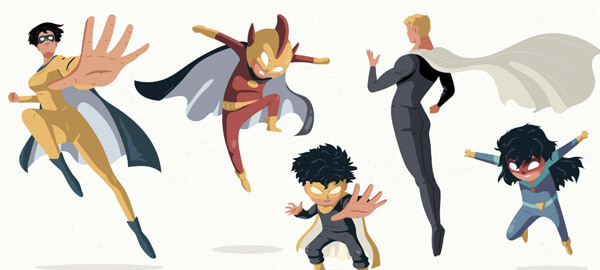 Another really cool graphic that we've found is a whole family of vector superheroes. With a mother superhero, father superhero, teenage hero, little boy hero, and little girl hero, all with masks and costumes, it is perfect to find the right hero age and gender according to your needs.
Superhero vector icons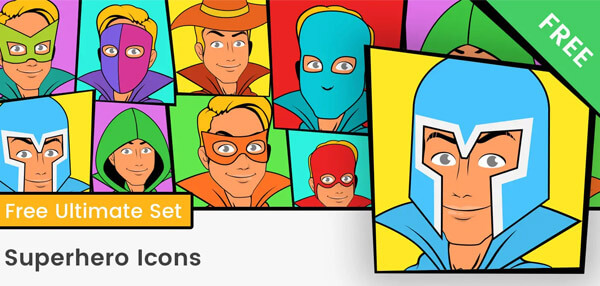 It's time to share one of our own free vectors – this free bundle of superhero icons is great for websites, blogs, review images, and social media profile images. As they are vector based, they can be customized according to different color schemes.
Funny superhero vector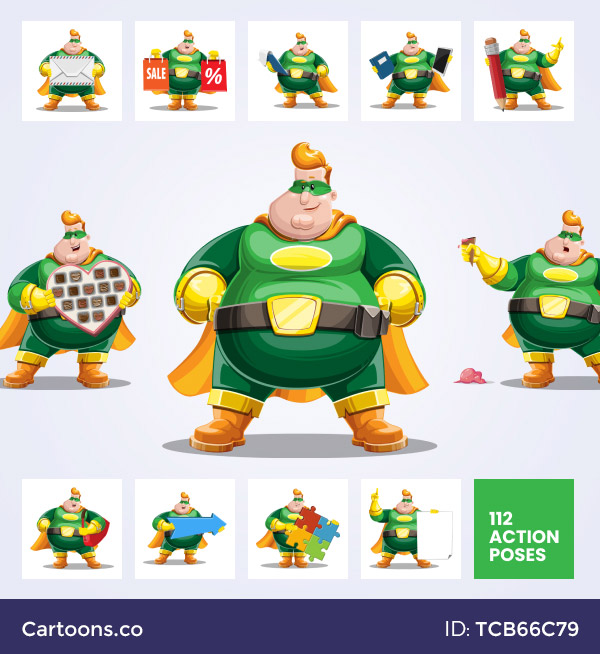 Meet Captain Oversize, a charming oversized funny superhero with a green and yellow costume. This friendly superhero is designed in a detailed style with vector shapes and doesn't even look like a vector. Anyway, the premium set with 112 poses is completely editable with most vector software.
Silhouette vector super hero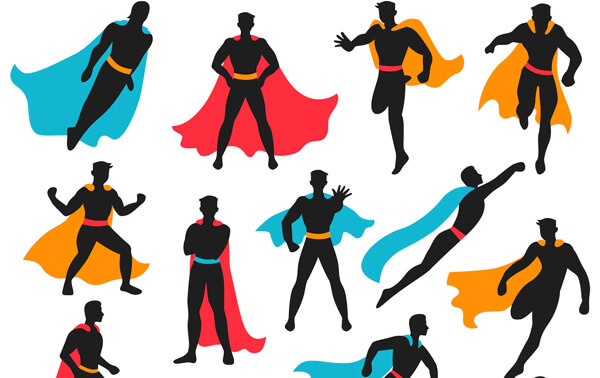 A nice collection of 16 black superhero vector silhouettes. The pack is great for more modern minimalist designs with colorful superhero cape vector elements. It can easily be modified according to your ideas and vision.
Hero mask vector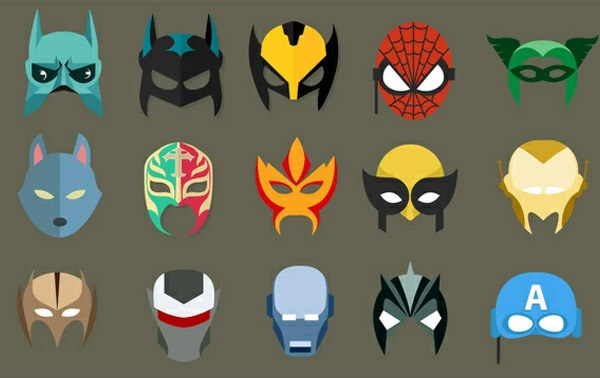 Using full-size superheroes sometimes is not an option for your design, and this is where these superhero mask graphics come in handy. Extremely convenient for some use cases, you will find a black superhero mask, bat mask, Iron Man mask, Captain America mask, Spider-Man mask, and many more vector superhero icons.
You can change the vector colors and shapes easily in vector-editing software.
Diversity Superhero Vector Characters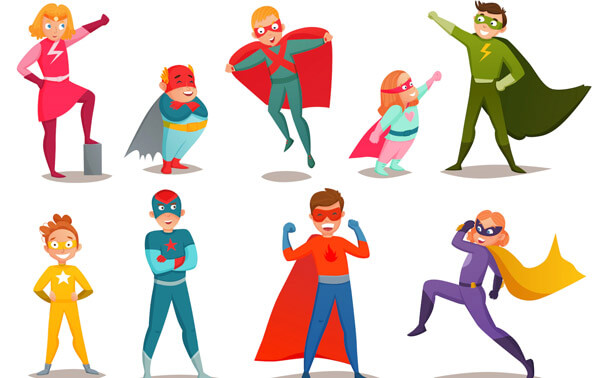 A 9 free-to-download vector images of superhero cartoons. This cartoony includes superhero women, superhero men, superhero boys, and superhero girls, designed in a flat cartoon style with fresh colors.
Super hero with mask vector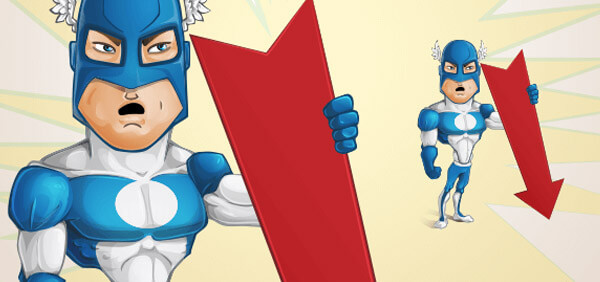 A really high-quality blue costume superhero vector holding a down arrow. This handsome superhero with a mask vector is, unbelievably, available for free download.
Comic hero vector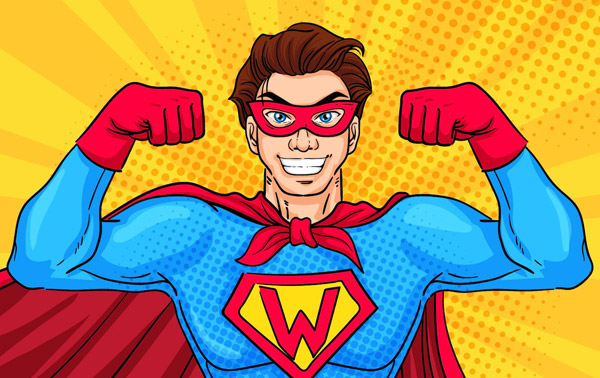 A smiling and charming superhero with a superman costume designed in a comic book pop art style with cartoony shapes and strokes. This free muscular superhero vector is perfect for more casual projects.
Superhero vector doctor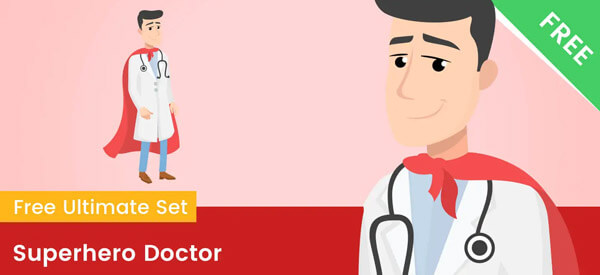 People who spend their time for saving lives are heroes, and without superpowers, they are our superheroes. This free vector superhero doctor with a cape is great to visualize the importance of medical personnel.
Vector muscle man super hero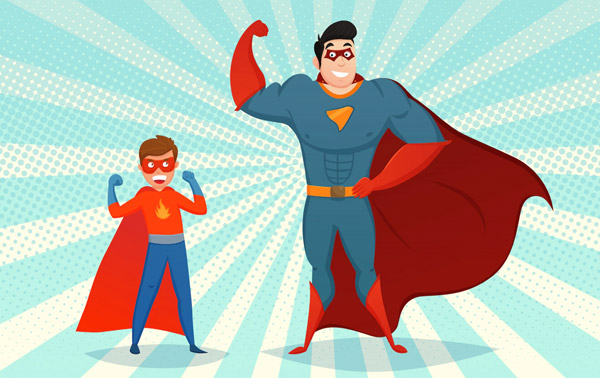 A really inspiring vector image of big and little superheroes. Parents are role models for their kids, and this vector heroic illustration is showing how if you are acting like a superhero, your child will do the same.
Superhero flying vector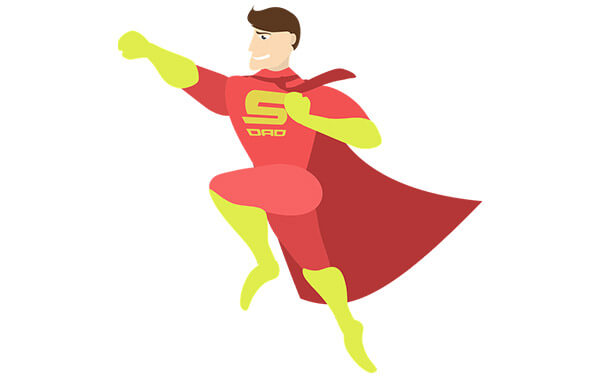 A flying superhero vector image with simple shapes. This minimalist hero graphic is available to download from Pixabay for free right now.
Free Simple Flat Superhero Graphic
Super collection with superheroes for a super audience. We hope you found what you were searching for and we wish you good luck with your super projects.