12 Super Cute Fat Cat Vector Characters
Especially for you, we've collected 12 great fat cat vector graphic images that can be used for different purposes. You will find both free and paid fat cat illustrations in different styles with different emotions and from different sources. Let's not waste our time and get to the point check these 12 vector graphics:
1. Fat Cat Vector Mascot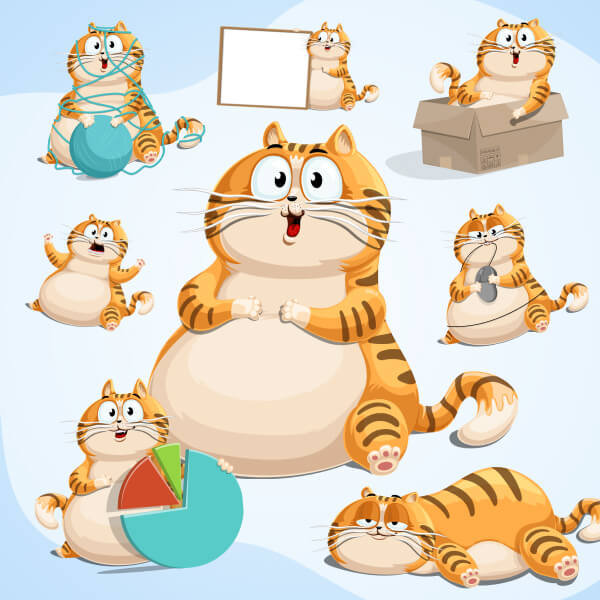 This great fat cat vector mascot set includes 112 different poses, all available in different formats like Ai, Eps, and Pdf. They can be completely modified according to your needs and can be used for both web and print projects. The set also comes with a special symbol library that allows you to combine the different parts of the mascot and create your own poses.
2. Funny fat white cat vector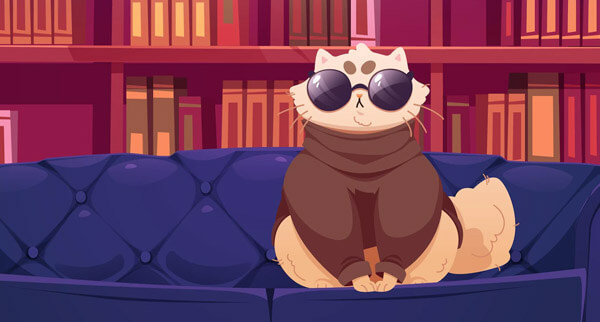 A funny grumpy cat with sunglasses sitting on a couch, available in vector eps format. This cute overweight pet illustration is completely free for download.
3. Vector Fat Kitty Cat Illustration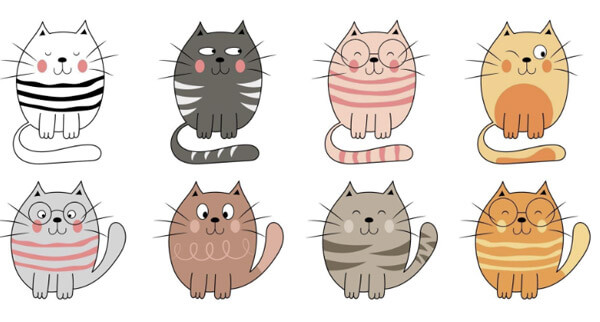 A free-for-download set of 12 cute simple fat kitten drawings. Designed in a simple, clean style, these flat illustrations are super cute and will add a great friendly vibe to your project.
4. Free Funny Cartoon Vector Cat Illustration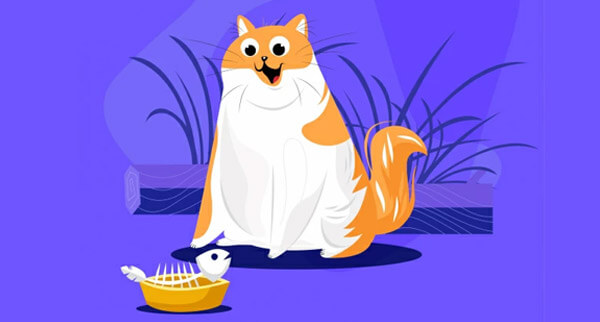 You can grab this charming eat-loving cat for free right now. Available in vector format, this lovely overweight will surely add a bit of fun to your project.
5. Free Collection of 9 Simple Vector Fat Cats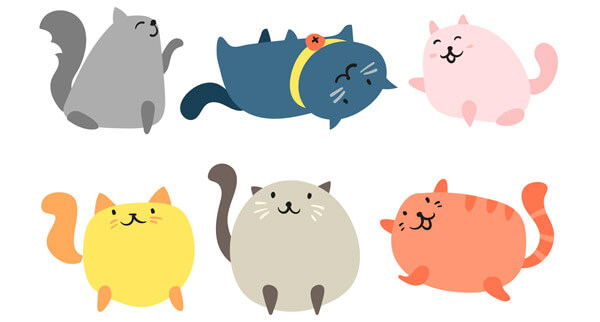 If you are looking for a free set of different cats, maybe this is the perfect free vector set for you. 9 Adorable fat cats in a simple cartoony style each of them in a different color. You can download the free Eps file right from Freepik by clicking the download button below.
6. Cute Inloved Fat Cat Free Vector Set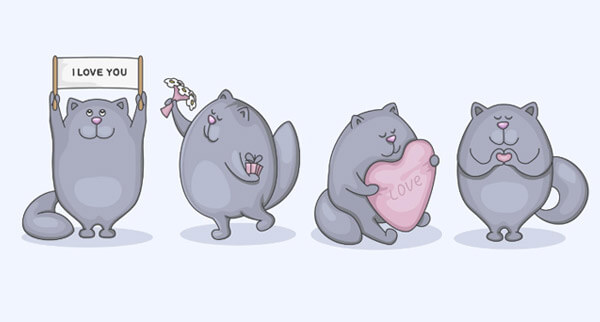 You can easily provoke some positive emotions with this adorable in-loved cat set. In the download archive, you will find 4 different romantic poses of a cute fat cat.
7. Cute Fat Hungry Cat Vector Free Graphic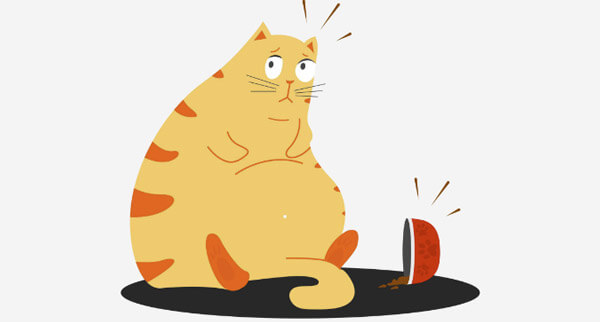 An always-hungry cat that is really… huge. This charming vector yellow cat has one dream – a never-ending breakfast. Perfect to illustrate many situations in a variety of projects, and the best part is that it is available for free.
8. Free Clean Minimalist Fat Cat Vector Character
Here is a more stylized fat cat that will suit more geometry and flat-style designs. The chubby vector kitten has just finished eating and it is time to take a nap. This free vector is completely modifiable in all major vector-editing software.
9. Adorable Happy Free Fat Cat Illustration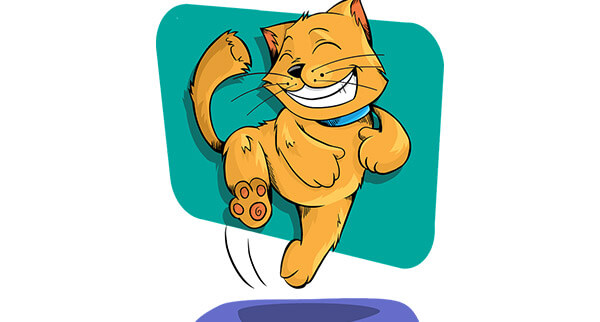 This funny not-so-little fellow is perfect to visualize success and happiness. This happy fat cat is free and completely editable and you can change its colors to blue, white, green, or whatever you like – it's up to you with the easy-to-use vector file that is included.
10. Free Colorful Funny Fat Cat Illustration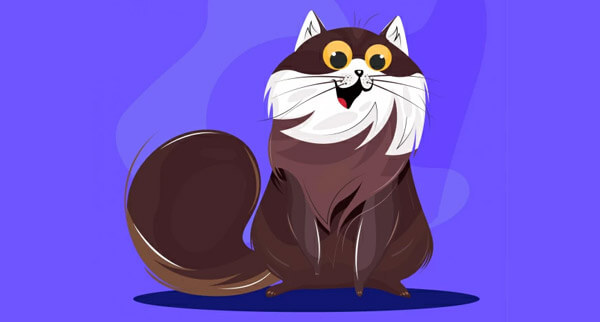 A modern-style illustration of a fluffy cat, that is smiling. This dark brown kitten has has a charming smile and you won't have to pay a penny to get it – just click on the free download button on the site.
11. Funny Hungry Fat Cat Free Drawing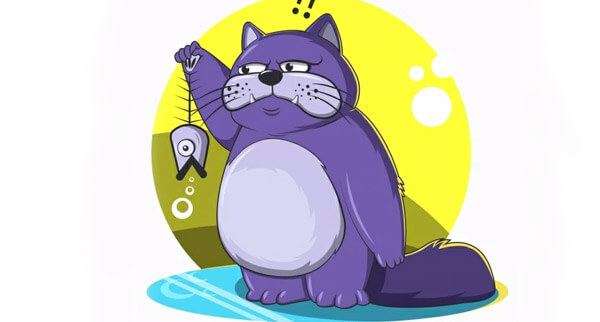 This fat grumpy purple cat comes in both Ai and Eps formats for your convenience. This overweight cat is really disappointed it's not rich, as it is available for free download.
12. Free Fat cat drawing colored carton design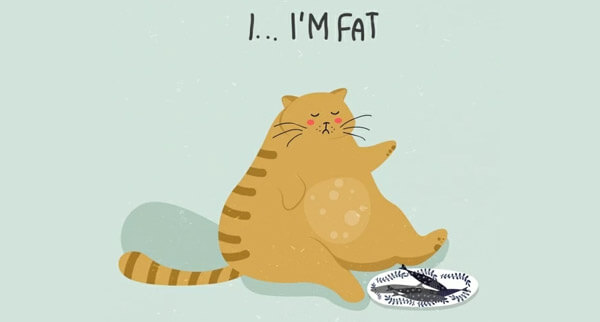 Here comes the most oversized cat with no doubt. This brown kitten can't stop eating, as you won't stop including it in your funny projects.
We hope you've found the cat you were looking for. And if you are interested in more animal characters, take a look into our category full of free vector animal characters.